Online Marketing Domination
Want more customers in the Abbotsford area? Look no further you have found your answer. Our company Nicholas Man SEO is specifically designed to bring in new customers to your business, no matter which industry you are in.
With our expertise in search engine optimization, reputation management, social media and web design service we can not only get your website and other web properties ranked on search engines – but we can and have literally filled the entire first page for businesses in Abbotsford and across the entire world.
Most search engine optimization companies have no clue what they are doing which is unfortunate because it will only damage your presence of your website because they do low quality SEO. We know what we are doing and our results have proven it time and time again. Just search up Abbotsford SEO.
What We Do:
First of all, if you already own a website, our abbotsford SEO company will analyze it and make sure that there are no problems with any prior SEO work that may have been done with or without your knowledge. We will reverse any penalties and make any necessary on page tweaks to make sure that your business website is fully optimized.
If you lack a website, we will build one for you, with proper optimization because we are also an Abbotsford city web design company.
The next step is to make sure you are in Google My Business and are verified with the basic social media setup to help build trust and authority for your site.
From there we start the citations. Our company, Nicholas Man SEO, knows exactly the right type of local citations to send to your site; for example if you live in abbotsford we will send your website specific citations. We look for relevant and high domain authority citation to make sure we have a powerful and trusting foundation built.
The Most Important Step:
Now we usually have positioned ourselves on a very solid foundation. With our deep understanding of proper SEO, both on and off page we will optimize it even further to completely dominate your competition. This includes the organic results AND the maps listings in Abbotsford.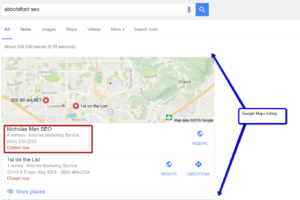 The way that we do things, you will naturally rank well in the 3 pack (or maps) and also in the organic listings. We can run PPC campaigns as well (paid advertising), but most of our clients find that the return they get from the
search engine optimization work we do is way better than any form of paid advertising.
Depending on what type of package you would like to purchase, we can start working on totally dominating the first page for your company by not just ranking your homepage, but also other web properties. We are talking about properties such as Twitter, Facebook, YouTube videos, Pinterest, LinkedIn and any citations we have done for you like Yelp.

Good to Go?
If you are ready to leap forward and make the decision to go with Nicholas Man SEO as your choice for an online advertising platform, feel free to contact us right away. We are ready to transcend your business to the next level.
P.S. If you need an Abbotsford Web Design contact iias!